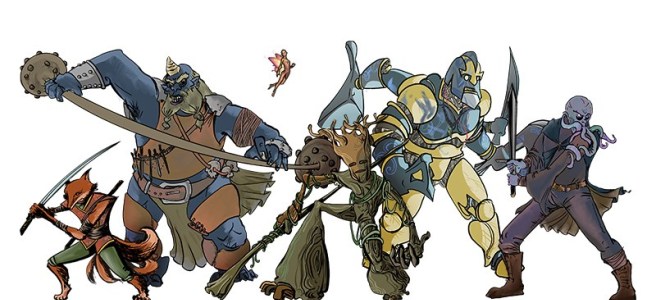 I seem to have stirred the pot a bit with my recent posts on 5th edition, and especially my opinion on the unusual races that now exist in the game. I figured it was worth dissecting my opinion, but let me clear — this post is all about opinion. You may disagree strongly, and that's cool, and nobody is right here, it's all just personal preference. So with that disclaimer aside, let's get started with some history.
OD&D began with four races: human, dwarf, elf, and hobbit, the final one famously changed to halfling in response to objections from the Tolkein estate. Four is a nice number, it has parity with the four options for classes (assuming you add in the optional thief from S1), and results in a large feeling number of combinations (16 if you allow every variant). Delta has written a whole post about how well the number of options in OD&D works.
I would also point out that these options have strong precedence in literary and folklore traditions. From Tolkein to Grimm's fairy tales they all feel very familiar to even those who have no experience in tabletop roleplay. Nothing here is coming from whole cloth, the setting of D&D is entirely a mish-mash of pre-existing fantasy content that almost everyone first heard during bedtime stories. I've heard it described as "you play Conan, I play Gandalf, we'll go kill Dracula together" and most players I play with immediately recognize that comparison. That said, some readers may point out those are some pretty dated references — more on that later.
AD&D 1st edition adds three new races: half-elf, half-orc, and gnome. This is an interesting selection, only gnome really fits into the category of "one more of the same". The demi-humans are already difficult to categorize when searching their roots — one fairy tale's dwarf is another's elf — but adding gnome to the list doesn't feel terribly out there. Half-elf of course is also rather Tolkein-ish, though there were few actual instances it does feel like a natural response to the question of what comes of a human/elf romance.
Half-orc is a bit more weird, as it opens the door to the morality questions regarding evil races. Sure, Tolkein mentions Saruman cross-breeding orcs and men, but it was never really clear to me if this was magically induced as the recent movies portray, or simply a case of sexual assault. Either way it introduces a wide range of questions about orcish culture which every DM has had to wrestle with since.
And then there was 2nd Edition, which at first simply followed 1st edition's lead, until the splat books started coming. Drizzt Do'Urden made dark elves cool, and the introduction of them as a playable race in Drow of the Underdark played havoc with my own D&D group at the time. Suddenly I had a party full of brooding loners, which just doesn't make any sense. I tried to spin it as there being some rash of morally good dark-elves, a resistance movement within the society, but my players didn't really seem to care. What can I say, we were teen-agers. Drow were cool like leather jackets were cool, and if the sign says jacket required surely a leather jacket counts? Being ostracized at every town and village was annoying to both them and me, and dealing with that broke the fiction of the game for us.
Should we talk about The Complete Book of Humanoids? Ugh. Yeah, you can play a centaur now, and good luck spelunking in dark caverns, trying to climb ropes and ladders and such. Fortunately my players quickly rejected this book as ridiculous.
3rd edition shed the madness and returned to the core seven races of 1st and 2nd: human, dwarf, elf, halfling, gnome, half-elf, and half-orc. Sure, d20 gave us lots of optional extra books but we were burned by that in 2nd and so ignored them. I never played 4th edition, but I know that edition is the origin of dragonborn and tieflings, which we now see in 5e as well. These are the races that I really struggle with, as they really feel ungrounded to me in any cultural tradition or world building. Arguments of "no literary precedence" are easy to shout down with "D&D is an amalgom of all fantasy settings", and I feel like maybe the problem really is as stated earlier, my references are dated. Maybe I'm just not ready for players that identify more with "you play Groot, I'll play Pikachu, and we'll go kill Lord Zedd."
Wikipedia has a pretty nice page on all the races and when and where they were introduced. DnDBeyond has made organizing our characters much easier, but has also made it a little less obvious where each option comes from, and the default they push you toward is buying everything in a bundle and giving you access to it all when you create a new character. It's very easy for new players to dive in and create Tortles and Catfolk, without even noticing that the actual text in the player's handbook specifically calls out how everything but the four original races should be quite rare.
The dragonborn and the rest of the races in this chapter are uncommon. They don't exist in every world of D&D, and even where they are found, they are less widespread than dwarves, elves, halflings, and humans.
In the cosmopolitan cities of the D&D multiverse, most people hardly look twice at members of even the most exotic races. But the small towns and villages that dot the countryside are different. The common folk aren't accustomed to seeing members of these races, and they react accordingly.

5th Edition Player's Handbook, page 33
Unfortunately, the rules don't enforce this rarity at all. For comparison, look at Warhammer 4e which tries to bribe you with XP to roll on a random chart where a human result is 90% likely. Race choice instead becomes a simple gateway to specific abilities, or for those who bother to read the above text, a chance to play a cool loner/rebel. But then everyone does that and at the macro level you're left with a party of circus freaks, and either you have to accept that your world has an ultra-modern global cultural feel to it, or you have to roleplay time again as the isolated yokel reacting to a gang of weirdos showing up a their door. It gets old pretty quick.
So there you have it, that's my take on all the fantasy races that came post OD&D. While the 3 introduced in AD&D have enough nostalgia for me to overlook their use, I honestly don't miss them at all in my OED games. I prefer humano-centric games where the party has maybe one elf or one dwarf and the surrounding society considers that quite exotic. Sure, some times we end up with a weird group of all elves or all dwarves, but then it's easy to spin that into a game about a group of outsiders visiting the human lands. At least I feel like there's an obvious origin culture the party came from and can fall back on. But when the options outnumber the players 2-3 times, you end up with a crazy hodgepodge and I struggle with finding a way to make that make sense in the context of my game's setting.
As stated at the start, your mileage may vary, and what works for me might not work for you and vice versa. It's cool, I don't mean to pass judgement on your fun, I'm just trying to explain my own, to myself as well as to you.