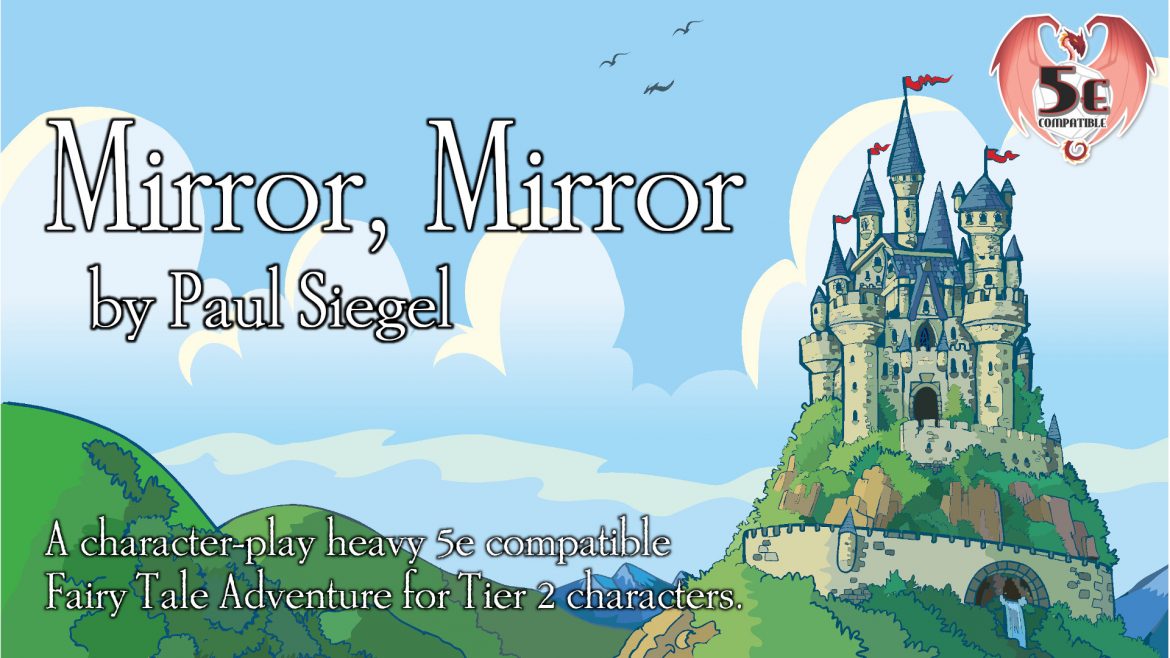 Well, I was supposed to be starting work on my first contract this morning, but due to the company shifting to remote work I find myself with a couple extra days off. Of course the whole reason for taking up contracting was to create a more flexible schedule to allow me to work on more TTRPG stuff, so I'm using the time to try and finalize my latest D&D adventure: Mirror, Mirror.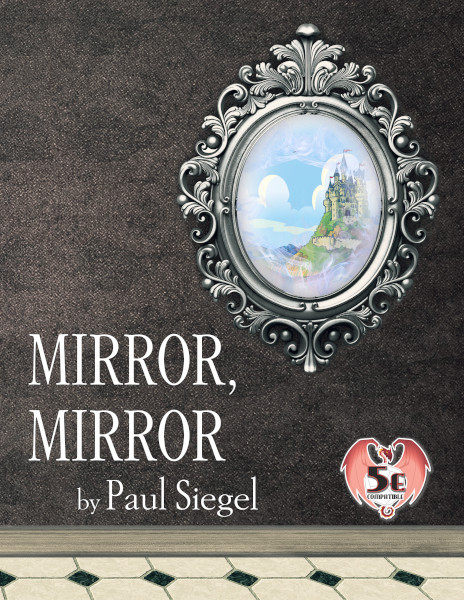 Mirror, Mirror is a 5e compatible D&D adventure placed in a fairy tale setting. King Nuno has summoned the party to track down the missing knight Sir Lucan, who vanished just as his nemesis, Zeroun the Enchanter, escaped from prison. The fate of the kingdom, and the happiness of Princess Ardella, lie in the hands of our brave adventurers, but not all is quite as it seems.
This fairy tale is marked by a cast of complex characters who turn classic fantasy tropes on their ear, and challenge the players to navigate intertwined NPC relationships and moral gray areas. There are plenty of locations to explore and enemies to vanquish, but all against the backdrop of a complicated web of conflicting NPC motivations. DMs must be ready to portray a variety of unusual characters and help their players navigate a plot that cannot possibly end with everyone living happily ever after.
I originally wrote this adventure way back in 2010 for HelgaCon and eventually ran it at GenCon in 2011, as well as TotalCon and Carnage on the Mountain 2014. Back then it was titled "To The Rescue!", a title I was never really happy with, and now I'm glad to have found a better one that both references something specific in the game and evokes a little of the fairy tale setting. I started adapting my 5 pages of notes into a full fledged 5e adventure during the train ride to PAX Unplugged, and got much further along than expected thanks to getting stuck for 6 hours in New Rochelle. Since then though it's been stuck on the back burner while I focused more of my creative time on streaming.
I chose this adventure to publish next because I wanted something really character focused after having done a fairly straight-forward dungeon crawl for The Vile Crypt. I thought it would be a nice change, and ideal for release on DriveThruRPG under the OGL license rather than DMs Guild, given how much of the text focuses on character background rather than game mechanics. I received some advice at PAX Unplugged that the best strategy was to release work on both sites and then cross promote between them. It seemed very smart advice and I'm glad to have the chance now to try it out.
The funny thing is, it turns out that the notes on this adventure were far looser than others I've written, as it really was just the minimal information I needed to deal with locations, monsters, etc. All the character interaction stuff was largely in my head, and I really needed precious few notes to recall it at the table. Trying to translate that into something another DM can read and run has been pretty challenging. I'm already at 20 pages, and I haven't even created 5e stats for the NPCs yet – something I found in my last work that vastly increased the page count.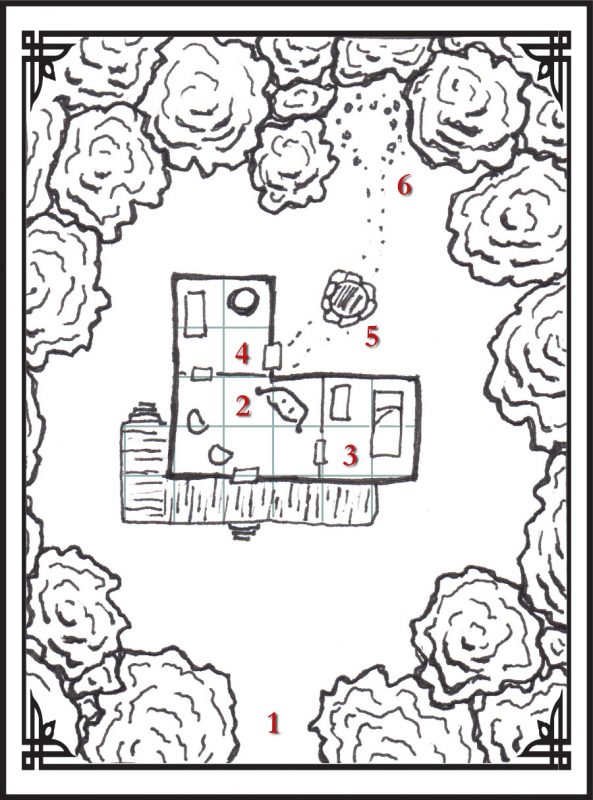 I'm also taking this opportunity to try and up the quality of my maps. My existing notes had several small custom maps rather than one large one as The Vile Crypt has, and I really want them to look nice on the page. So I read a bunch online of what techniques other artists use and then did my best to emulate them. Here's a sample of a simple three room home set back in the woods that I'm pretty happy with. I found the key for me was first working in ink rather than pencil, and then adding a couple small details to every room based on the description I had already written. I feel like this really made the map come alive. I also spent a good chunk of time trying a bunch of different ways to draw trees until I found one I was happy with.
I have two more maps to draw (I've done six already), the stats of all the NPCs to create, the conclusion to write, and then I'm sure a dozen other small tasks and edits. It may be a little while before this thing is ready to post for sale, but the good news is that the design is solid and thoroughly play-tested, so all this just feels like so much assembly of existing parts. None of the work is particular hard, there just seems to be so much of it!
I'm sure you'll be seeing more updates on this one as it progresses. I'd like to get it out of the way quickly to free myself up for other pending projects. All this time stuck in the house thanks to the coronavirus is sure to help my productivity on projects like this, so I guess that's a silver lining of that situation?