So last weekend it showed up, by which I mean, it showed up at Pier 1 and I had to rent a u-haul truck to go pick it up.  And of course all they had left was 14′ trucks, so I had to rent this massive thing to bring home one table.  I guess the good news there was that there was plenty of room inside the truck to rip open the packaging so we could bring it upstairs to the family room piece by piece.  With just Jenn and I as labor, it would have been impossible to carry up the whole box as a single piece.  Here though, is the end result: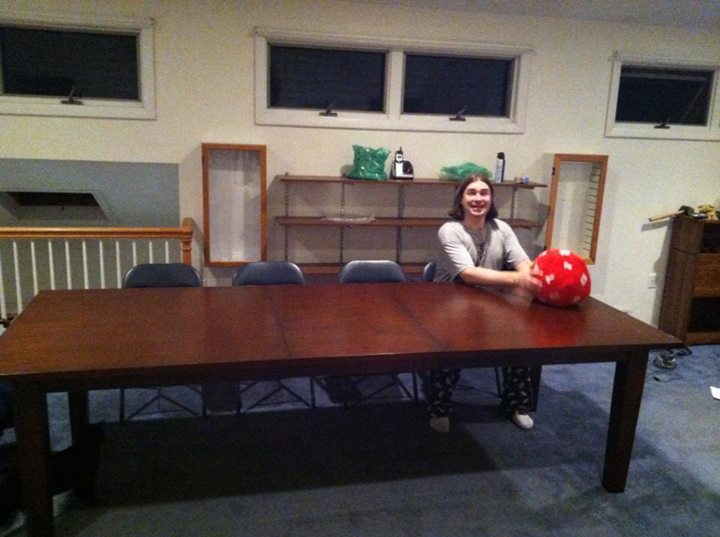 As you can see I'm quite excited (though that may be due to simple physical exhaustion).  The chairs are still just some folding chairs I set up to get a sense as to how many people could really sit at the table.  10 will fit easily with the leaf in, and I can imagine 12 might squish together.  With the leaf removed it's still a pretty imposing table, but not totally overwhelming.
Behind the table you can see my two miniature display cases mounted to the walls, with shelves between them ready to hold my dwarven forge collection.  Just off to the right you can see my GM's Valet from Geek Chic.  I have to say, 12 year old me would probably be pretty amazed at the gaming setup I've managed to make for myself.
Not pictured (behind the photographer) is the 10′ tall mural of an enormous moose, complete with real antlers hung on the wall at the top of its head, courtesy of the previous owners.  So before I go unpacking all the miniature terrain, books, etc, I've got a lot of sanding and painting to do.  Soon though, I hope to put my game-cave to serious use.
Chairs too, I gotta find me some chairs.