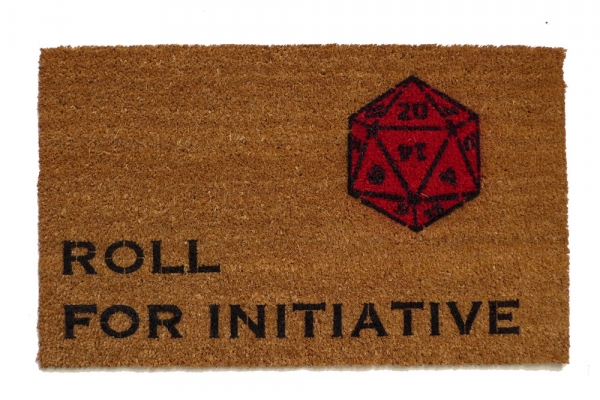 I've played with lots of different initiative systems – individual rolls, group rolls, based on a stat, drawing cards from a deck… Seems like turn order is a thing that game designers just love to tinker with. Personally, I think the simpler the better. I use a single group roll at the start of combat and then just go around the table clockwise until it's over. It's fast, it's light, everyone knows when it's their turn – easy. I was going to write a post espousing this method when the thought struck me – I wonder how it has changed in D&D over the years? Time for a Through the Ages post!
Let's start with OD&D. Nope, can't do that, it has nothing to say on the topic. Please correct me if I'm wrong, but I seriously can't find a single comment on turn order during combat or any instance of the word initiative. Well, OD&D does say I have to have a copy of Chainmail for combat, so let's start there:
THE MOVE/COUNTER MOVE SYSTEM

Both opponents roll a die; the side with the higher score has the choice of electing to move first (Move) or last (Counter-move).
The side that has first move moves its figures and makes any split-moves and missile fire, taking any pass-through fire possible at the same time.
The side that has last move now moves its figures and makes any split-moves and missile fire, taking any pass-through fire possible at the same time.
Artillery fire is taken.
Missile fire is taken.
Melees are resolved.
Steps 1 through 6 are repeated throughout the remainder of the game.
For the sake of brevity I'm not including the second alternative, titled "the simultaneous movement system" which outlines a mechanism of writing down orders for units and then executing as a second pass. All this sounds pretty reasonable for a war game. A couple things of interest to note for later comparison – the winner of the die roll gets to choose to go first or last, which makes sense given that situationally the advantage may lie in either direction. Movement and actions are separate – initiative determines who moves first, but then missile fire and melees seem to be simultaneous actions. It feels like there may be order of operations questions there – does a unit still get to attack if it is killed that turn? Anyway, lest we get embroiled in war game analysis, let's move on and see how this gets reflected into D&D once D&D starts to have its own combat rules.
Holmes Edition:
When two figures are brought into position 10 scale feet (or less) apart they may engage in melee. The character with the highest dexterity strikes first. If the Dungeon Master does not know the dexterity of an attacking monster he rolls it on the spot. Subject to the limitation of heavy weapons the two figures exchange blows in turn until the melee is resolved. If dexterities are within 1 or 2 points of each other, a 6-sided die is rolled for each opponent, and the higher score gains initiative — first blow.
Fascinating, all turn order is dictated by dexterity. I love the qualifier about "if the Dungeon Master does not know the dexterity of an attacking monster he rolls it on the spot." I mean, that's basically true for every single monster. I love the idea of rolling dex for every monster – this orc is fast, but I rolled a 3 for the dragon, so I guess it's just a slow, clumsy dragon. Dice only come into play to break ties, and this text may be the first place we see the term "initiative".
Ultimately it looks like Holmes made his own stuff up here. His system does not feel rooted in Chainmail / OD&D to me. He also creates the precedence for having dexterity impact initiative – what seems to be a contentious choice that we'll see come and go throughout later editions.
B/X:
INITIATIVE: To determine initiative, each side rolls 1d6 (the DM rolls for the monsters). The side with the higher roll may move first and attack first in combat for that round. If both sides roll the same number, the DM may either have both sides roll again, or may consider movement and combat for both sides to occur at the same time (known as simultaneous combat).

The side "with the initiative" has the first choice of actions. Members of that side may choose to fight, run, throw a spell, take defensive positions and wait to see what the other side does, start talking, or do anything else that the players or DM can imagine.
Now there's additional text here about an optional method of having each individual roll instead of per-group, but I'm not including it here. Additionally though, it's important to note the "combat sequence" laid out later in the text:
Combat Sequence

A. Each side rolls for initiative (1d6).

B. The side that wins the initiative may act first (if simultaneous all actions are performed by each side at the same time):

Morale checks, if needed (page B27).
Movement per round, meleed opponents may only move defensively (spell casters may not move and cast spells).
Missile fire combat:

choose targets
roll 1d20 to hit; adjust result by Dexterity adjustment, rang, cover, and magic
DM rolls damage

Magic spells (roll saving throws, as needed: 1d20).
Melee or hand-to-hand combat:

choose (or be attacked by) opponents
roll 1d20 to hit; adjust results by Strength adjustment and magic weapons
DM rolls damage; adjust result by Strength adjustment and magic weapons.

C. The side with the next highest initiative acts second, and so on using the order given above, until all sides have completed melee.

D. The DM handles any surrenders, retreats, etc. as they occur.
Wow, so much to unpack here. I did not realize that this is where the "no cast and move" rule was hidden. Also fascinating that the DM always rolls damage, I don't think I ever noticed that – did anyone play this way? I imagine not knowing how much damage you're doing really changes the feel of combat. Note too that the first part of the text mentions that the winner of initiative "may move first and attack first," and I wonder if that use of "may" is meant to imply choice as it was in chainmail?
The combat sequence here really reflects the text from chainmail, but then item C seems to countermand the simultaneous nature of actions after movement. I feel like I've stared at this text many times thinking I was supposed to interweave actions until noticing item C.
The concept of simultaneous combat is also something that I've struggled with through the years. It seems rather neat but is so complicated and so little actual guidance is given on how to make it work. With a d6 for initiative, ties are pretty common, and nothing is quite as infuriating as multiple ties and re-rolls. Recently I've been using a simple "ties go to the players" rule. Sure, it gives them an advantage, but hey, they're the players, why not? It at least makes things much easier and faster.
OK AD&D, what've you got?
Surprise gives initiative to the non- or less-surprised party. It is otherwise determined when an encounter occurs and at the start of each combat round. It indicates which of the two parties will act/react. Again, a d6 is rolled, and the scores for the two parties are compared. (It is recommended that such initiative rolls be made openly unless there is some reason to hide that of the encountered monster party – such as special bonuses which would be unknown to the player characters involved.) The higher of the two rolls is said to possess the Initiative for that melee round. (While it is not accurate to roll one die for all individuals comprising each party, it is a convenient and necessary expedient. Separate rolls could be made for each member of two small groups, for instance, but what happens to this simple, brief determination if one party consists of 9 characters and 6 henchmen and the other of 7 giants and 19 dire wolves, let us say?) Possession of initiative allows the individuals to take action or reaction as desired according to the foregoing list of alternatives, and as detailed hereafter. The dexterity or speed of individuals or weapons is not considered in the 1 minute round except as hereafter noted.
I'm limiting myself here to just the rules around determine who has initiative – what to do with that info gets really complicated in AD&D. AD&D starts adding in weapon speeds, casting times, and all other manner of complexity that frankly I've never really been able to deal with. The example combat has all this interesting stuff going on with spells being interrupted left and right, but the mechanics for dealing with that feel like they'd take forever to calculate and would slow combat to a crawl.
And yet, what I find really interesting here in this text is a little nod to expediency around group vs. individual combat. Group initiative is described as a "convenient and necessary expedient", and then there's a hilarious aside about a complex group containing multiple different types of enemies, players, and henchmen. Ultimately I think the point is a fantastic one, but where does this sentiment go when we introduce concepts like casting time and spell interruption?
Other interesting notes – we have here a complete dismissal of dexterity modifiers to initiative, and also the concept of the winner of initiative getting to choose to go first or not. The former seems odd without taking into consideration the historical context (sorry Holmes), and the latter is something I feel like I've never noticed nor seen used in play.
OK, 2nd edition, can you clean up this mess?
Initiative
The initiative roll determines who acts first in any given combat round. Initiative is not set, but changes from round to round (combat being an uncertain thing, at best). A character never knows for certain if he will get to act before another.
Initiative is normally determined with a single roll for each side in a conflict. This tells whether all the members of the group get to act before or after those of the other side(s).
There are also two optional methods that can be used to determine initiative. Each of these optional methods breaks the group action down into individual initiatives. However, the general method of determine initiative remains the same in all cases.

Standard Initiative Procedure
To determine the initiative order for a round of combat, roll 1d10 for each side in the battle. Normally, this means the DM rolls for the monsters (or NPCS), while one of the players rolls for the PC party. Low roll wins initiative. If more than two sides are involved in combat, the remaining sides act in ascending order of initiative.
If both (or all) sides roll the same number for initiative, everything happens simultaneously — all attack rolls, damage, spells, and other actions are completed before any results are applied. It is possible for a wizard to be slain by goblins who collapse from his sleep spell at the end of the round.
Nope, 2nd edition just piles it on. In addition to standard group initiative we have two optional methods. Also not included here is a decently sized table of standard initiative modifiers. Interesting that we've moved from a d6 to a d10 – possibly because we wanted a finer grain of modifiers, or possible to make simultaneous combat more rare? Simultaneous combat is still here though, and this is perhaps the best description I've read on how exactly it's supposed to work. Still more effort than it's worth in my opinion.
D&D 3rd Edition:
Initiative Check
At the start of a battle, each character makes a single initiative check. An initiative check is a Dexterity check. If two or more characters have the same initiative check result, the characters that are tied act in order of Dexterity (highest first). If there is still a tie, roll dice to break the tie.

The Combat Round
Each round represents about 6 seconds in the game world. Anything a person could reasonably do in 6 seconds, a character can do in 1 round.

When a character's turn comes up in the initiative sequence that character performs his entire round's worth of actions.
There are no simultaneous actions. All effects of a character's action fully resolve before the next character acts. A character cannot split an action to allow another character to act between portions.

Effects that last a certain number of rounds end just before the same initiative count that they began on.
I have to say, despite my feeling like 3rd edition begins the "board-game-ification" of D&D, this I think is a really good refinement. Individual initiative takes over, but there's no such thing as a tie, no such thing as simultaneous action, no interruption of spells, just do all your stuff and the next player goes. Also, welcome back dexterity influence.
OK, so where does all this leave us? Honestly, I can't say any single edition ever came up with a good solid answer. I think ultimately I have to hand it to later editions for just doing away with interruptions and simultaneous actions. My preferred method is basically that, but with a group roll instead of individual rolls. Going around the table is just so fast, and best of all, predictable. I think a lot of delay happens in combat when players can't tell when their turn is coming up. They delay making any tactical choices until notified it's their turn, so then as each turn comes up we have to wait for the player to make decisions and then execute them. When you go around the table you know your turn is next as the player to your right is executing their action, and you should be ready with your actions by the time that player completes their turn.