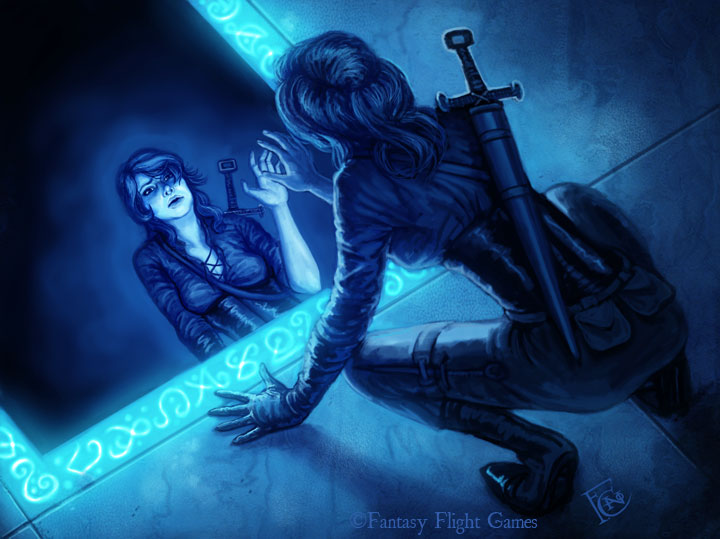 In the comments of my last post Delta shared a link to the Angry GM's blog where he describes a system called "The Murky Mirror". I think some of the ideas expressed in that post are quite interesting, but unfortunately the delivery is both long-winded and incredibly abrasive. It's not the kind of thing where I'd be happy just sharing a link with my players, so I'm going to attempt to repost the concept here in my own heavily edited way. So without further ado, I present the Murky Mirror, as told by the Angry Polite GM.
The Murky Mirror


We assume the players and characters are reflections of each other in a murky mirror. They aren't perfect reflections, but they are generally synchronized in time and meaning. What the players are doing is generally interpreted to be what the characters are doing, and what the players are saying is generally interpreted as what the characters are saying, as seen through the lens of the imaginary fantasy world in which the game takes place.


For example, if a player says "my character refuses to help because he thinks the orcs are all savages because he saw them murder his parents," we assume that in game their character said something like "scum like you butchered my parents and I'd rather have every one of my fingers broken then lift one of them to help a monster like you." If the players spend ten minutes talking about the latest episode of a current TV show, then we assume their characters are discussing a traveling theatrical group they saw at the last town. If during combat a player says "we all need to protect Gertrude, she's the only one that can heal us", we assume the character said something reasonably similar and if the enemies speak the same language, then it is certainly reasonable for them to react by focusing their attacks on Gertrude.


While time may pass at different rates at the table vs. in the game world, we can also assume a somewhat murky connection between the two. If a player spends a long time considering their next move during combat, the DM may warn the player that their turn will be skipped if they don't make a quick decision. If they characters have ridden their cart into town and are debating where to go first, then the DM may have the town guard yell at them to stop blocking traffic and move along.


There is no back-tracking, there is no "that was out-of-character". If a player says or does something at the table, it is reflected in the game world, at least in a reasonable facsimile for the fiction of the game. The DM may at their discretion ask for confirmation of actions, including speech. When a player says "Should we check for traps? Eh, screw it, I kick down the door," we are not surprised when the DM asks "are you sure?" Likewise, if a player says "This NPC seems shifty, I don't think we should trust him" the DM can ask "Are you sure you want to say you don't trust this NPC out loud?" Both instances are purely at the DM's discretion, and players should not assume in either case that they can take back any action at their liberty.
There's a lot in the original page about why this is a good idea and the results of how it impacts the game. I was going to try and summarize those as well, but then I realized I wasn't sure if I agreed entirely with the author, or at least didn't yet have the evidence to support those claims. So for now I'm just leaving up there the base mechanics of how it's supposed to work. I will likely experiment with using this at an upcoming game. In fact posting it here was meant as a way to generate the text I could share with my players. I imagine there will be a future post where I will share my results, and compare them with the expectations the Angry GM set forth in his original post.
This post is also grist for the mill of my upcoming Wandering DMs chat with Dan on the topic of "Character and Player Separation". We'll be discussing the topic in depth tomorrow, Sunday, at 1 PM Eastern. Watch the discussion on Twitch or YouTube and share your own thoughts in the chat!
EDIT: Watch the Wandering DMs discuss Player vs. Character here!