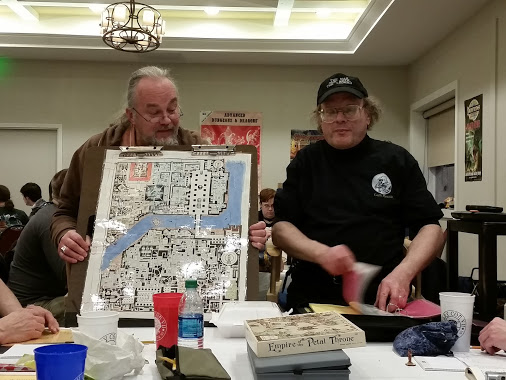 Delta recently pointed me to a forum post by Michael Mornard, where he recounts some stories of what it was like gaming with Gary Gygax at the helm. While explaining the role of the caller, Mornard makes some comments on mapping which I found to be particularly interesting in relation to the posts I've made recently about mapping (here and here). Here's what he has to say:
The first thing that you need to make the idea of caller clear is how VITAL the map was. If the map was wrong, the party was dead, period. You'd never get back alive, and your names would be added to the list of those who went to find fame and fortune in "that damned pile of rubble" and were never seen again. You HAD to have a map, and it HAD to be correct.

Next, you must realize that DUNGEON LEVELS WERE SPECIFICALLY DESIGNED TO BE DIFFICULT TO MAP. This is important enough to say again. DUNGEON LEVELS WERE SPECIFICALLY DESIGNED TO BE DIFFICULT TO MAP. Once more, DUNGEON LEVELS WERE SPECIFICALLY DESIGNED TO BE DIFFICULT TO MAP.
Mornard follows this emphatic declaration with examples that will ring true to anyone who has read old modules – sloping passageways, one way doors, curved or diagonal passageways, etc. Allegedly the point of this was to force tension into the game, to enable immersion by means of really challenging the players' ability to pay attention to detail. Mornard also speaks of Gary's use of time for this effect:
Tension and excitement came from the speed with which events unfolded, and skillful play was in part a matter of reacting to the quickly changing situation (rather like on the wargame table, no surprise.) Gary deliberately used time pressure to add to the excitement of the game; between this and the mental strain of hanging on every word and trying to build an accurate picture of the situation from verbal cues, by the end of a night's gaming I'd be wringing wet with nervous sweat.
I have a pretty mixed reaction to this. On the one hand, I get the point, adding immersion by forcing the players to act as if they were truly in a "Gods-forsaken lightless pit full of unnamable horrors" is certainly something I want in my games. On the other hand, if your players are not accustomed to this, training them by forcing them through repetitious and less-than-fun play feels really tedious. I think back to Delta running us through the mazes in Rappan Athuk as a counter point. I was doing my best to try and map out the crazy maze which was written specifically to be nigh-impossible to map. I could see the rest of the players sitting quietly around the table, slowly disengaging. I think we all came away from that feeling like that was not a good use of half an hour of game time.
Mornard speaks of doing this at his own game, and of eventually achieving the mood he was after (note his player is a different Paul, with a different blog, that's just a coincidence):
After the first session of my NYC D&D game, Paul, the player who acted as the caller, said in his blog "it seems like the caller has all the fun." I decided not to intervene, but to see how this evolved. By the end of the game in May or June, the dynamics had changed; the caller was mapping, one other player was keeping an auxiliary map, and the other players were intensely focused on the maps and hanging on my every word. As I had hoped, the game naturally evolved in the same way it had forty years earlier.
Perhaps we simply have to accept that to get that level of immersion, we have to pay our dues in table time. In the comments of my second mapping post I said "eventually any given player will figure out how much detail you will or won't give, and you'll develop a rapport, and it will become less painful", but I still want a better way. It's not like these are children we're playing with – we're all adults, we're all here to have a good time. It takes time for us to build that GM/Player rapport, to understand where the fun is and come to agreement on what challenges really make the game engaging. As Gary tells us in the Forward of OD&D Volume I:
A quick glance at the Equipment section of this booklet will reveal just how little is required. The most extensive requirement is time.
And that, I think, is the crux of the problem. In reading Gygax's writings, and others writings of what it was like playing with him, it sounds as if time is the one thing he had in abundance. It's amazing just how much gaming they did back then. I don't think the modern gamer has that luxury – certainly the folks I play with don't. We're lucky to get 3-4 hours a week in, and I don't want to waste a whole week of game time hammering my players with wandering monsters just to train them not to sleep in the dungeon. But if I don't do that, will they really appreciate what a horrible and dangerous place it is? Surely there must be some short-hand for reaching this point?