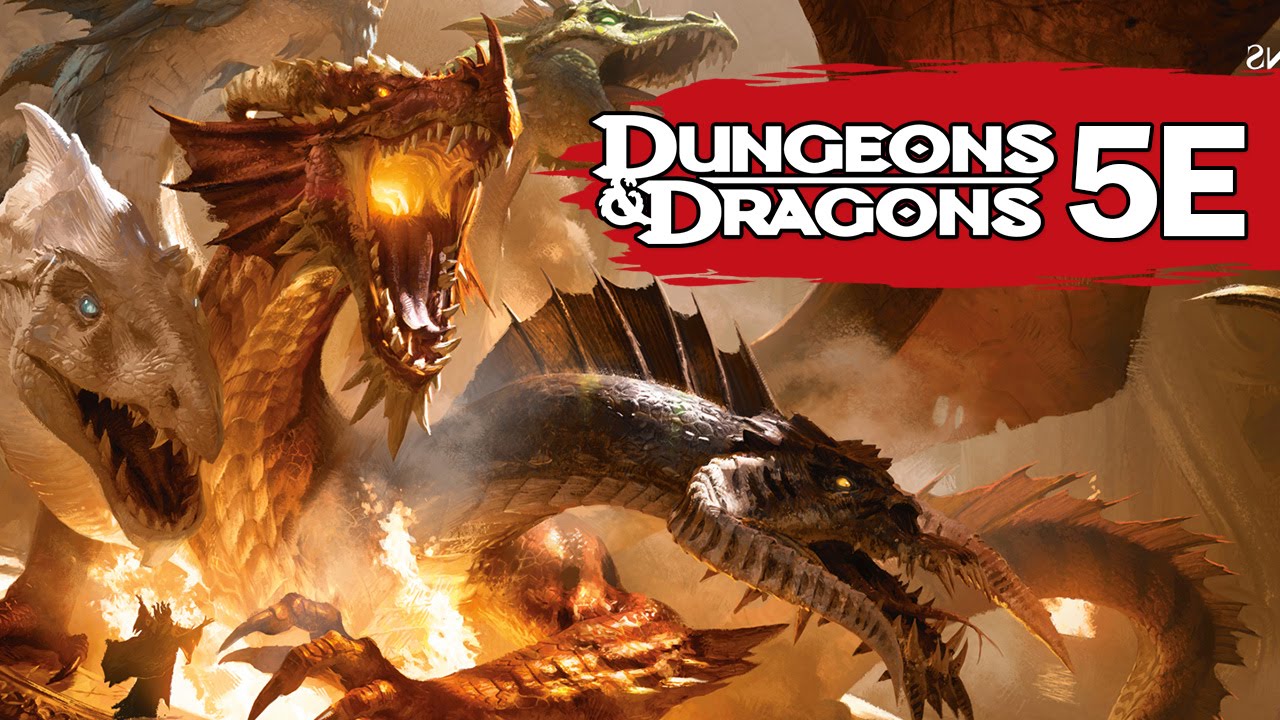 I ran my first game of 5th edition D&D last Sunday night. My regular Sunday night group has decided to switch from Demon wars to D&D, and as I've said in the past I like playing with that group enough to be content with whatever system they choose. The group is also full of DMs and likes to rotate who runs, so inevitably my turn was going to come up. I figured I could use the practice for my upcoming work game anyway, and I have to say that my overall impression is: not bad.
Of course I'm still bringing my old school style to the table, and that may at some points clash with the newer rules set. I'm sure we'll work it out as we go. For now though, here are some very quick first impressions after my very first session behind the screen with 5th edition:
What I Like
Quick Combat – I was surprised that combats went pretty darn quickly. Now, I was using group initiative and go around the table, and I'm not sure how much the players did or did not like that. It's possible I'm taking away some player's chance to shine if high initiative is considered a perk of some class or race or whatnot. Also I'm concerned that as we go up in level (my group is currently only 2nd level), the volume of options per-player may slow things down. But for now at least, I was pleasantly surprised at how quickly combat went. Not as snappy as OED, but still reasonably quick.
Abstracted Skills – As you guys know, I'm no fan of skill systems. I much prefer an immersive approach where players interact with the world more and their character sheets less. I therefore found myself pleasantly surprised with how abstract the 5e skill system is. Gone is the giant list of skills which must be bought per-point each time you level. Instead what we have is a list of 20 or so skills that are tied ability scores, and a list of which skills your character is "proficient" in (giving you a set bonus on that roll). It smells a bit 2nd-edition-ish, and personally I feel like I can see through the matrix a bit at what is really just a mechanism for making ability checks with a bonus applied if it's "in fiction" for your character to be good at that thing. While I personally would prefer no skill system at all, I do think this is an improvement over 3rd edition, which I happily played for quite some time.
Cantrips – I am surprised to say that I rather like that spell casters were given very minor magic that they can do indefinitely. Most spells are still limited in a quazi-Vancian way, but every spell caster has a couple of "cantrips" that they can use every round. The effects are well balanced to be pretty trivial in nature. The few that cause damage are no better than throwing a dagger, and isn't just a bit cooler to have your magic-user tossing little bolts of magical fire than daggers? Surely this feels better than a world where every ancient arcane sage is also a darts champion.
Backgrounds – You know what, I really like these random little nuggets of pure roleplay hooks. I love that they're on random tables, and that they have pretty much no actual game mechanic impact. They are kind of fantastic at taking my character from "generic 1st level elven magic-user" to something with a little personality, and without leading me down the trail of writing paragraphs of back story. The touches are just light enough to be interesting without becoming overbearing.
What I Don't Like
Weird Races – Ugh, why did they have to add so many weirdo races? Even without all the add ons of cat people and tortles, the base player's handbook includes tieflings and dragonborn. My major problem with these races is how synthetic they feel. The usual fantasy races are at least bound in cultural and literary tradition. The newer races just feel so meta, and I don't understand how they fit in when world building. And while one "unusual" creature in a party can seem kind of cool, when the whole party is this strange menagerie of non-humans, it just feels awkward to me.
Challenge Ratings – I didn't like this system in 3e and I don't like it in 5e. It feels to me like a false sense of security, like somehow by using this simple calculation I can ensure I'm going to have a perfect encounter that feels challenging but definitely won't TPK my party. Guess what – it feels challenging when there is definitely a chance of TPK. That's what makes it fun! And as Delta has pointed out, systems like this are just inherently broken. Personally, I'd rather just put what monsters in place make sense to the setting, and make sure the players have some means of escape when they find themselves in over their heads.
Attacks of Opportunity – Can we just stop with this? Please? It neither adds to the realism nor the fun.
Number Scales – Both money and hit points are just immediately using values that I consider silly. A kobold does d4+4 damage – a kobold! There is nothing in the game that is doing a straight d4 or d6 of damage, that is laughably insignificant in the hit point numeric scale. Your average 1st level treasure includes 1,050 silver pieces and 70 gold pieces. I'm amazed at how value-less silver is in this world.