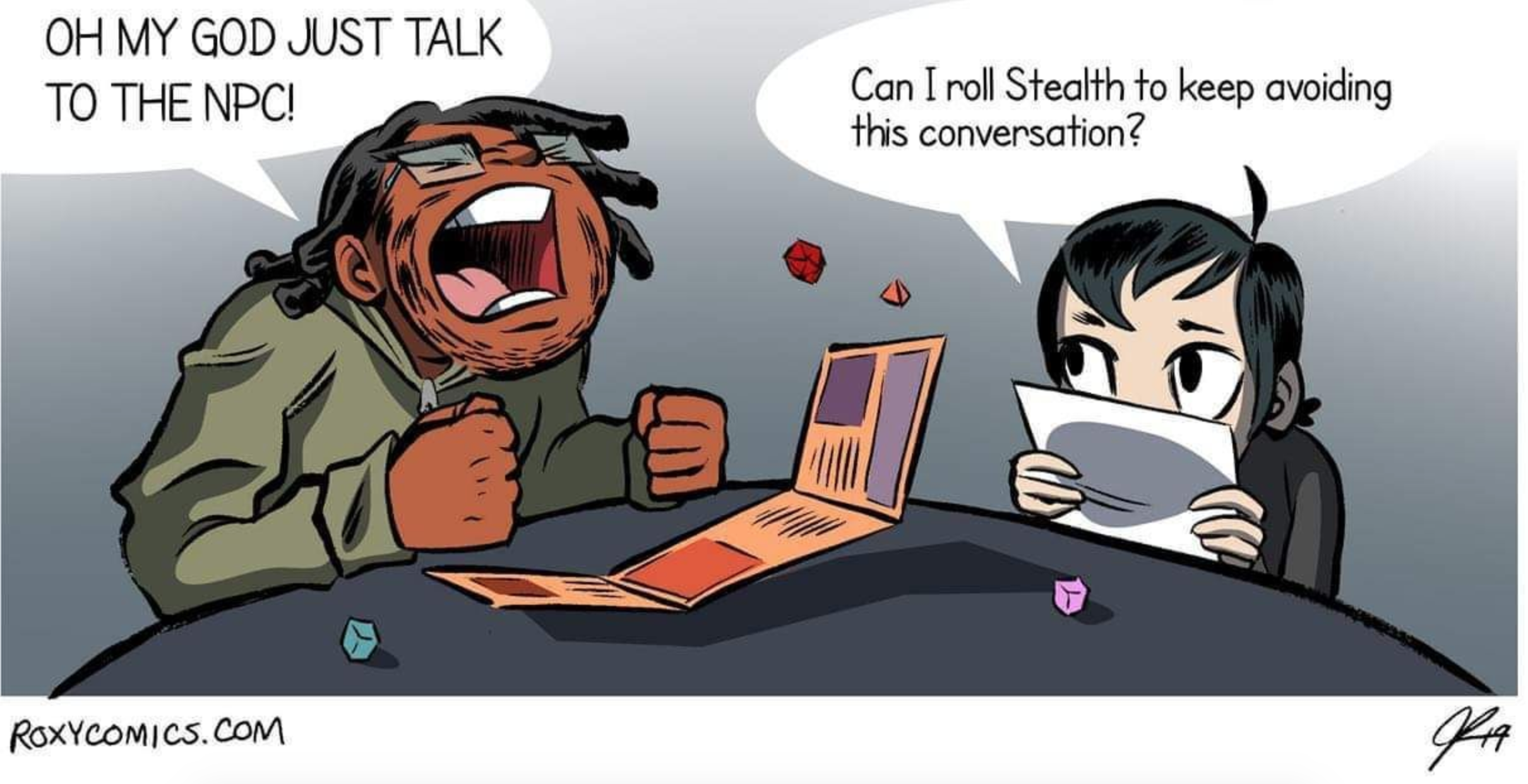 Work travel may mean a chunk of time without blog posts but it doesn't mean no gaming! I ended up having a night at the hotel with a group of coworkers and nothing to do, so naturally we pulled out the dice for a game of D&D. I had just 4 players for this one so I dusted off an old module I wrote almost 10 years ago called To The Rescue! (based loosely on the novel Soon I Will Be Invincible) as I recalled it had more opportunities for social encounters. Later during travel I listened to the Fear of a Black Dragon review of B6: The Veiled Society, which seemed to playing in to a similar theme.
The 5th edition Player's Handbook classifies three pillars of D&D adventures: Exploration, Combat, and Social Interaction. I think this is actually a pretty good break down of the core elements of D&D. 10 years ago when I wrote To The Rescue! I probably would have thought spending 33% of a game on combat was too much. At that time I was railing against what I saw as the "board-game-ification" of D&D in 3rd and 4th edition. I had seen my share of multi-hour sessions devoted entirely to combat, at which point it doesn't really feel like you're playing a roleplaying game at all.
These days I think spending one third of your game time on combat is probably just about right, assuming it's sprinkled throughout the session and not one solid block. I think of combat as the punctuation in the game now. I like it quick and snappy so it can happen more often without dominating the game. Two hours into a game with no combat and it feels a bit like a run on sentence, while any combat that's more than 15 minutes feels like a slog.
Exploration I believe is the bread and butter of old school D&D. Whether you're exploring the twisted halls of an underground dungeon or the wide open expanses of a wilderness adventure, the thrust of the game is really about discovering what's out there and finding a way to use it to advance your own goals. While spending 33% of your time on exploration in old school D&D sounds right to me, I also think of the three pillars it's kind of the most important.
So that leaves us with social interaction, which I also think is really important. In our recent Live Play game I was really glad that the party chose to negotiate with the Rat Prince so we had some social interaction in that game. It's very easy for a mega-dungeon to skip this part, and while I think you can have a perfectly enjoyable game without it, I do miss it when its not there. To some degree the players always get a little bit of it by simply having to deal with each other, but as DM the only time I get to partake is when the party actively chooses an approach other than "get em".
As the Fear of a Black Dragon guys discovered, city adventures seem to naturally want to focus on social interaction. It's a bit hard to do exploration in city adventures for some reason. That said, if you set out to create an adventure that focuses on social interaction there is an unfortunate tendency for the design to become somewhat railroady. The FoBD guys saw this in B6, and I'm sure I've seen it in a lot of other adventures as well. It's hard to list examples as once I realize that's happening I usually put the adventure down and move on. On the other hand, an example of an adventure that I think avoids it reasonably well is the WFRPG classic Shadows Over Bogenhafen. I don't think I necessarily had this in mind when writing To The Rescue, but in retrospect I think I did try to use similar tactics in its design.
In my view, the best way to avoid railroad design in a social adventure is to simply leave out anything that requires specific player action. That sounds pretty obvious stated that way, but then what do we include? I'd start with an outline of the major NPCs the players are likely to interact with. Give them strong, specific personalities and list their goals and motivations. Arm the DM with as much background as possible to enable improvisation at the table. A timeline is fine to include, but do it from the perspective of what the NPCs would do if the players don't interfere in any way. Including events or branches that depend on a specific player action will lead to that railroad feel. Avoid including an obvious big climax scene — old school games should be all beginning and middle, no end.
I think Shadows Over Bogenhafen gets very close to the line in describing the final ritual and including a map of the location where the ritual occurs. That said, we're talking about 1 page of text and a 1 page map in a 128 page book. If something happens during play to prevent the ritual from going down, I don't think anyone is going to be upset that there was missed material.
In fact, I'd say be prepared to include more material than the players will ever interact with. In the text of To The Rescue, I include one page of background and NPC descriptions, and then three pages of locations — the witch's hut, the prison the necromancer escaped from, and the necromancer's new hideout. The fact is that I don't really expect the players to hit all these locations. In practice I've only seen one group actually visit the prison. The witch's hut is sometimes a place that gets explored, and sometimes simply the backdrop for a social interaction with the witch herself.
In fact, I worry a little that some of the NPC motivation is hidden in the text of the locations. If I were to edit this again, I'd probably include a second page with more in-depth character and motivation descriptions of the major NPCs (the king, the princess, the knight, the witch, and the necromancer). I'd like to make it more clear to readers that each of the locations are completely optional, and that the real fun to be had here is in interacting with the NPCs.
It's definitely a difficult format to design and write for. I think it's against most author's instincts to leave so much up in the air, but I think that's exactly what you must do. And of course, I think lots of play-testing is key. Find out what players dig into, what extra bits you keep adding on the fly to make it work, and then work that back into the text. Just avoid dictating a specific path — give options, not directions!